You never forget your first. Before anybody gets upset with that statement, I'm talking about mountain bikes. My first? I was 18 years old and purchased a Raleigh Serengeti, a hardtail mountain bike, which at the time, made me feel like I was the owner of a million-dollar supercar. I've been hooked ever since. My next bike was a step up, a Rocky Mountain Hammer Race which I bought in the late 90's. I still have that bike, and often take it out on the trails to this day. The newest bike in my fleet is a Norco Torrent, and I gotta tell you, that super car feeling is back!
Have you ever noticed how something you're passionate about and have stuck with for years can also teach you lessons in your professional life? Maybe it's just me, but when I'm training and working with sales reps and corporate leaders, I often use mountain biking references to get a business point across. In today's post I've decided to put them all together, and I hope you'll find the lessons within are very helpful indeed. There are also some great links for you to dive deeper on all of the points of the trail we cover.
1. Risk mitigation Is crucial:
Mountain biking isn't for the faint of heart and taking safety precautions isn't just good practice, it could save your life. I change the brake cables on my bike every single year and inspect my ride before every outing for worn pads, chain damage, frame cracks and anything else that may come apart at the worst possible time. The sport, by its very nature, is a bit risky. I always carry tools and spare inner tubes and you'll never see me without a helmet on my noggin. Your career shouldn't be any different. If you're in sales or running a multi-million-dollar business, risk mitigation should always be top of mind as well. Hitting the trails on your bike or in your business is full of rocks, stumps, and trees. Preparing for and being aware of the risks could be the difference between one heck of a fun ride or serious problems. I've ridden MTBs (Mountain Trail Bikes) and worked in sales and executive positions for over 30 years now and have avoided serious injury in both simply by expecting and planning for adversity along the way. We can't plan for every eventuality, but we can plan for most by actively preparing. Business continuity insurance, disaster recovery planning, training our people to be wary of phishing scams, even periodic business reviews: these are the helmets and spare tires of our professional lives. One of my favorite introductory resources for BCDR (Business Continuity & Disaster Recovery) planning is one by TechTarget and you can find it HERE.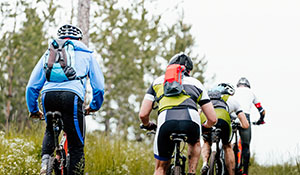 2. Study the trail before you ride:
The number of people I've met over the years who have started a business without a business plan is about equal to the number of MTB riders I've met who haven't studied a new trail before they ride it. In both cases, a lot of pain and angst could have been avoided if only more effort went into studying the trail or road ahead. Most MTB groups have trail maps and are quite happy to share them with you. One group I belong to, the Short Hills Cycling club, even has an adapted Google maps application that highlights and describes all the trail options in the area complete with difficulty levels and markers for hazards. Similarly, getting help with a solid business or sales plan is actually easier than most people realize. There are sample ones on the web and plenty of entrepreneurial colleagues who are more than willing to share if we only ask. Business plans, sales plans, marketing plans and trail guides all ensure that we have more fun and success and less unforeseen bumps on the trail. For a great no-nonsense start to writing a solid business plan, look no further than the U.S. Small Business Administration website HERE.
3. Choose Your Line:
When crushing a trail, efficiency is key. When riding along at breakneck speed you're constantly "choosing a line" on the trail that will make the next part of the ride, turn or uphill climb easier and more enjoyable. Choose the wrong line and curse words or injury are sure to follow. Choose the right line and get ready for an exhilarating and rewarding day out! The more you ride, the better you get at this split-second instinct. In our business lives, the same holds true. When we talk about company direction or when we're planning a product roadmap, what we're really doing is choosing one direction out of many possible directions. You can call it focus, you can call it prioritization, but in the end, it's really about choosing a path that we think will deliver the strongest and most rewarding results with the least amount of waste. In business as in trail riding, choosing a line is also about choosing positive direction. On a mountain bike if you look at the rock or the tree, that's likely what you'll hit. If you look at the point on the trail you wish to end up on, look there instead, that's where you'll go! In business as in life, make sure you pay attention to danger but keep your eye firmly on the prize. There's a simple and easy to digest article by Inc. that has some great tips on how to get better at prioritizing and you can read it HERE.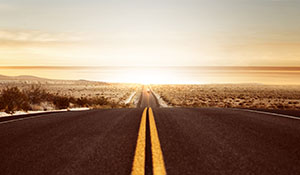 4. Don't assume it's always about mountains:
One of my greatest regrets when I left the mountains is the number of years I assumed there were no challenging trails to ride in the flat landscape of where I now live. I didn't find any serious trails for the better part of five years, not because they weren't around, but because I assumed that good trails could only be found on a mountain. Once I got past my assumptions and started actively looking, I found some of the most incredible MTB trails I've ever ridden in my life: Turkey Point which is basically built on a park of sand dunes; the Robin Hood Trails which made use of the dirt and rock dredged out of the ground to make the iconic Welland Canal; the trails behind Ryerson University; HydroCut which winds its way around boulders and power lines. Those are just a few of the one's I've found, and they are all incredible. Not one of them on a mountain. Sales is like that. Ever heard of elephant hunting? If you're in sales you have. It's the risky prospect of only chasing large and complex deals with big payouts. Good sales reps become great sales reps when they discover that you can make a lot more money and win far more business by going after more diverse kinds of prospects. There's a really good article that talks about how to better understand target audiences while generating net new leads and getting more business from existing clients and you can check that out HERE.
5. You gotta push through the pain:
"Shut up legs!" is something you'll here plenty of MTB riders screaming from the top of their lungs as they push through a long ascent. The lactic acid that builds in your legs can become excruciating. Sometimes your lungs feel like they are going to burst out of your chest from the effort. And that's on a GOOD ride! I've also had falls and cuts and bruises. An expression you'll hear now and then after somebody has gotten a little banged up is "No mud, no blood, ride was a DUD!" Only by pushing through the pain can you reach new levels of excellence, on a bike or in the boardroom. A good sales funnel only sees about 30% of prospects becoming customers. Sometimes a partnership or acquisition we were excited about falls through. If your ride enough or engage in business long enough, there will be pain. We only excel and separate ourselves from the pack by pushing through the pain because we know the reward is worth far more. It's not always about getting things right the first time. Success is garnered by making mistakes and learning from them, by falling and getting back up with new lessons learned. An oldie but a goodie from the Harvard Business Review does a great job of talking about the different kinds of failures we can expect to encounter and which ones can teach us the most. You can check it out HERE.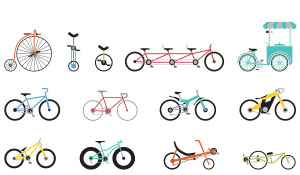 6. One bike does NOT fit all:
There is no such thing as "the best" bike. I ride best on a hard-tail (no rear suspension) with 29-inch wheels. For other riders, dual suspension (front and back) and 27-inch wheels support their riding style better. Some like disc brakes while others swear by cantilevers. Frames come in chromoly, carbon fiber, aluminum and a host of other alloys. Corporate cultures are like bikes that way: There is no "right" one. There is only the one that is right for YOU. As a business leader, as a sales rep, as somebody in accounting, we all have a choice to work in a place or to hire people that are company culture fits. If somebody tells you that your bike or company culture sucks, well, they don't have to ride it or work with it! Only you can make the decision about what culture and core values jive with your ambitions. If they don't, well, there's a ton of opportunities and people you can work with that will, just be sure never to settle. There's a great blog written by the President of Tigerpaw Software that also links to an incredible resource and workbook to help you define and harness the power of your own corporate culture. You can read that HERE.
7. When possible, ride with a group:
In a good summer, I ride 3 or 4 times a week. Most times solo, but once a week with a group. I currently belong to 3 MTB clubs in different riding areas. Each group has a weekly ride in which you can just show up and ride with 10 to 15 other enthusiasts. I have learned more technique and advanced cycling skills riding with these group in a couple of short years than I did in all the solo riding I did before! As a business professional, the same holds true. If it's an entrepreneur organization, a local chamber of commerce, or other professional organization, we can grow our businesses and professional skills faster and more effectively by drawing on the experience and innovative ideas of our peers. Sure, sometimes it's fun to chase an idea or hit a trail on our own, but other times, there's nothing quite as awesome as a shared experience. I belong to the MPSA, CompTIA, and the BTA, to name a few, and I've learned more from my peers in these groups than I ever could have on my own. It's helped, and continues to help, my career immensely.
We hope that you have enjoyed this article and that you came away with some ways to improve your professional life as well as learning some tips to make your next day on the bike more exciting and enjoyable. If you'd like more awesome ideas on how to improve your professional experience and strategies for streamlining your business be sure to visit the Tigerpaw blog, Tigerpaw Radio, or simply visit www.tigerpaw.com. Happy trails!